This means I've made a few projects from the Beginner 1 and Beginner 2 category, I'm familiar with my machine and the foundational skills to make my project prep and my sewing come together really nicely. I'm ready to learn some more skills, and turn up the complexity notch.
Click Here for Intermediate Projects. These will
have more pieces, require accuracy in piecing, may feature angles (bias) and introductory concepts like applique, and paper piecing, or zippers and buttons (you might need a specialized skill builder on this!) The point is to start to put all of your skills together and focus on the parts of the process of putting together your project. These projects may take you double the time to complete (especially if the pattern suggests a Make This pattern in: x time) but that's ok, focus and employ your skills.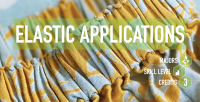 If you have a fair amount of skills, chances are you are here or at Intermediate Next, if were being honest, this is the sweet spot. Projects are just challenging enough for you that you have to think about them, but not so challenging that you're frustrated. If you feel frustrated, its ok, pause and choose some things from the Beginner Next category. Get a few 'Wins' and be sure to build those skills!
---