Hello Stitching Community!
Wednesday is Understanding Your Creative Partner, YOUR SEWING MACHINE, Day!
In this email I am going to discuss NEEDLE KNOWLEDGE!
First some questions ?
What are you currently sewing? (Me - Tamarak Jacket)
Fabric Fiber type? (Me - Cotton Poplin) ???????
Which Needle Brand do you use? (Me - Schmetz)
What size is it? (Me - 80/12)
What type? (Me - Microtex Sharp)
When did you last change your Needle? (Me - When I started the project)
What thread are you using? (Me - Gutermann Polyester, sewing weight)
Do YOU sew over pins? (Me - Never, really never!)
NEEDLE BASICS!
Locate the stitches in the picture above!

They are perfect!
The fabric is Cotton Linen Blend
The needle I used: A New Schmetz, Microtex Sharp 80/12, Chrome Professional Grade.
Locate the stitches in the picture above!

Yikes!!!! They are awful!
So what happened?
The jacket I was sewing had Ponte (Knit) sleeves
To sew the Ponte, I was using a Schemtz, Stretch Needle 80/12.
When I started sewing the hem, Cotton Linen Blend, I forgot to change back to my Microtex Sharp Needle!
Wow! The wrong needle really did make my stitches look really bad!
All I did to make my stitches look perfect was to change to the correct needle!
You probably all know this by now.....I love to trial, evaluate, compare, analyze, and scrutinize all kinds of different products. Believe me, I have done the same with needles! The info is too much to type here, but if you would like to hear more about my results please ask!
Schmetz is my favorite brand ( Yes, I have lots of reasons)

I use the Microtex Sharps 80/12 for most of my projects, because I frequently sew with cotton.
A Schmetz, Micrtex Sharp 80/12 is probably a good choice for you if you sew with the following: Cotton poplin, Cotton Broadcloth, Cotton Flannel, Cotton Velvet, Cotton Denim, Cotton Canvas, Cotton Linen Blend....
I generally sew on cotton with a high thread count, so the Sharp Needles give me the best stitch quality. The sharp point can easily pierce the fabric fiber. Try it for yourself!
Reminder: needles break when they strike your machines throat plate which is usually the result of pulling your fabric! A bigger needle probably is not needed. See prior email!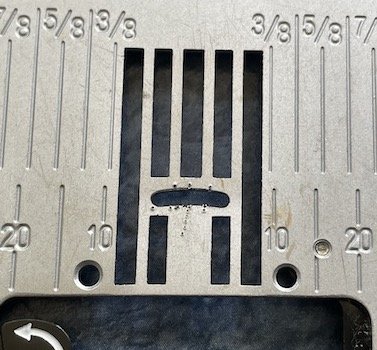 For Knits, Jersey and Ponte, I like the Schmetz Stretch Needle 80/12
For more info visit their website, Schmetzneedles.com
Change your needle every 6-8 sewing hours
Change your needle if you strike something.
In most home sewing machines, consult your users manual:
The needle will be inserted into the machine's needle holder with the flat side to the back.
Domed side to the front.
This is very very important! The hook can only "grab" your top thread and pull it over the top of your bobbin to form a stitch if the needle is inserted correctly. (See anatomy of a needle)
Be sure to insert the needle fully or you will break your needle threader!
For more information join me in my Threads and Needles Class! Click Here to Register for Class!
Time to bring this email to an end! I hope you have enjoyed learning more about your creative partner!
If you have missed any of my emails, they can be found on the home page of our website. Find Emails Here!
Bye!!!!!!
Cathy